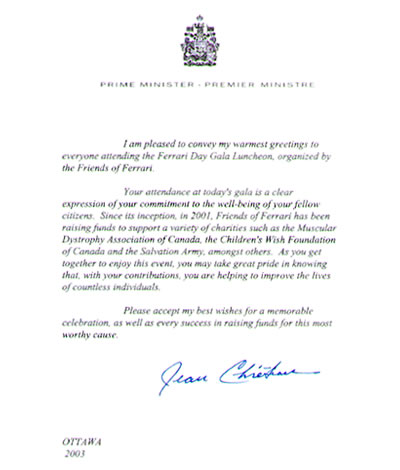 Actual Letter
Dear Mr. Corona,
I am pleased to convey my warmest greetings to everyone attending the Ferrari Day Gala Luncheon, organized by the Friends of Ferrari.
Your attendance at today's gala is a clear expression of your commitment to the well-being of your fellow citizens. Since its inception, in 2001, Friends of Ferrari has been raising funds to support a variety of charities such as the Muscular Dystrophy Association of Canada, the Children's Wish Foundation of Canada and the Salvation Army, amongst others. As you get together to enjoy this event, you may take great pride in knowing that, with your contributions, you are helping to improve the lives of countless individuals.
Please accept my best wishes for a memorable celebration, as well as every success in raising funds for this most worthy cause.
Jean Chretien
OTTAWA 2003